WAKA Vape Shines at the Vapouround Global Awards 2023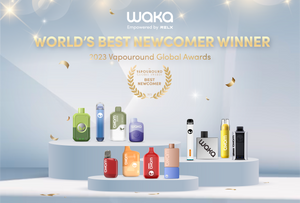 We are thrilled to announce that WAKA Vape, the sub-brand powered by RELX, has made a dazzling mark at the highly anticipated Vapouround Global Awards 2023. This prestigious event, renowned in the global vape industry, recognizes excellence and innovation across the vaping industry.
Why The Vapouround Global Awards is Important?
Now in its 8th year, The Vapouround Global Awards attracted over 650 brands seeking brand recognition. A distinguished panel of industry experts carefully evaluated the nominees, making these accolades a true testament to exceptional performance.
WAKA Vape: A Rising Star Making Waves
As an emerging player in the vape industry, WAKA has made a remarkable debut at the awards ceremony, showcasing its unwavering commitment to delivering top-notch disposable vapes. Since its establishment in December 2021, WAKA has quickly gained prominence for exceeding EU standards and offering customers a wide range of options. With an impressive product portfolio featuring 12 unique product lines and over 200 enticing flavors, WAKA has become synonymous with excellence and customer satisfaction.
A Stellar Achievement: Best Newcomer in the Vape Industry
WAKA's dedication to growth, innovation, and market impact has earned them the prestigious "Best Newcomer" award. This recognition solidifies WAKA's position as a rising star in the industry, setting the stage for even greater success in the future. We are proud to be leading the way in shaping the future of vaping.
Unveiling the Best Disposable: WAKA soPro PA10000
In addition to the "Best Newcomer" award, WAKA's commitment to producing exceptional disposable vapes has been acknowledged with the coveted "Best Disposable" award. Our outstanding product, the WAKA soPro PA10000, stood out for delivering an unparalleled vaping experience that surpasses expectations. This accolade speaks volumes about our dedication to quality and our unwavering pursuit of customer satisfaction.
A Bright Future Ahead
The Vapouround Global Awards 2023 are a testament to WAKA's growing influence and success in the vape industry. With an unwavering focus on quality, innovation, and customer-centricity, we are poised to continue shaping the future of vaping, inspiring others, and delivering unparalleled products.
Join us on this incredible journey as we revolutionize the world of vaping. Stay tuned for more exciting updates, new flavors, and cutting-edge innovations from WAKA Vape – where excellence meets satisfaction.