WAKA soFit FA4500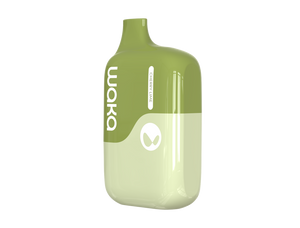 User Instructions
Nicotine is a highly addictive substance and can lead to nicotine addiction.
How to Use
This product comes pre-charged, so you can use it right out of the box.
Unpack your device.

Remove the silicone plug on top and sticker at the bottom.

Inhale and get started.
Contraindications and specific risk groups
This product should NOT be used by:
Minors (please consult local legislation of your jurisdiction for applicable legal age). 

Those who are pregnant or nursing. Nicotine can cause birth defects or reproductive harm.

Anyone with pre-existing health conditions. Do not use if you have an unstable heart condition, severe hypertension, diabetes, a disorder of the lungs, cancer or heart and vascular diseases.

Those who have allergies. People with particular allergies may experience an allergic reaction or discomfort after use.

Those with respiratory illnesses.  

Non-smokers. This product is not intended for use by individuals who have never smoked or used nicotine products, or who have already stopped all use of tobacco or nicotine products.
Do NOT use this product if you have a history of esophagitis, hiatal hernia, or gastroesophageal reflux disease (GERD).
Possible adverse effects may include: mouth and throat irritation, cough, increased airway resistance, chest pain, increased blood pressure, increased heart rate, vomiting, nausea, headache, dizziness, stomach pain.
If you experience any of the above side effects or any possible side effects not listed in this manual, immediately discontinue using the product. If the side effect(s) continue after you stop use, consult your doctor or healthcare professional.
First-aid treatment
This product contains a nicotine solution. Contact with the skin or eyes may cause irritation. Wash any areas of skin coming into contact with the e-liquid thoroughly with water. For eye contact, flush with water and seek medical attention. If swallowed, rinse the mouth, and seek medical attention. When seeking medical advice, have the product containers or label available.
General Use and Maintenance
Storage
Please store the product in a cool, dry, dark place and at room temperature 21-25°C/70-77°F. It is recommended that the product is used within 15 days of opening for optimum quality. E-liquid quality and disposable e-cigarette use is subject to environmental conditions, including air pressure and temperature.
Please note shelf life of this product is 18 months.
Environmental impact 
The e-liquid is composed of several ingredients which are sensitive to changes in temperature, pressure, and other environmental conditions. They should be stored and handled with care to prevent any leaks or changes in quality. This product should be used within the range of 15-30℃/59-86℉ for optimum quality. If this product has been subjected to extreme heat or cold, it is recommended that the product be brought to room temperature before use.
Keep out of reach of children
Please keep this product out of the reach of children and pets. Nicotine is toxic. If any part of the device or any amount of e-liquid is ingested, drink water to dilute the e-liquid and seek medical attention.
IMPORTANT SAFEGUARDS
Operation
Please be careful when using or carrying this product. It is a consumer electronic product, containing metal, a battery, and sensitive electronics. If the device is dropped, burned, punctured, squeezed, or exposed to liquids it may be damaged.
Battery
The built-in Lithium-Ion battery is not intended to be removed or replaced by the user. Removing the battery may cause electrical sparks, overheating, and may result in fire, explosion, or release of harmful substances.
Avoid contact with high temperatures, do NOT incinerate.
Do not place the device in proximity to direct sources of heat, direct exposure to sunlight, or in environments of high temperatures (above 60℃/140℉). Contact with high temperatures will damage the battery which will cause malfunction and could result in fire, explosion, or release of harmful substances. The lithium-ion battery will burn and/or explode if heated or incinerated.
Avoid exposure to liquids
This product is not waterproof and should not be made wet or exposed to liquids. Please do not soak or expose the device to significant amounts of any liquids, including water, sea water, and beverages.
Do NOT use damaged devices
If you notice any abnormality in the appearance or function of your device, especially physical damage, deformation, battery bloating, or leakage, please stop immediately. 
---
Also in Instruction