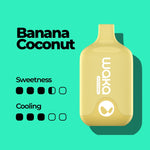 Sale price

$0.00

Regular price

Unit price

Translation missing: en.accessibility.unit_price_separator
What's fantastic
Perfect for your pocket & hand

Smash your expectation for freshness & richness


Our smallest disposable at 6000 puffs, boldly-colored curves, and flowing corners look good and fit easily in your pocket and your hand.
Pioneering 9-layer FlavorLock tech ensures flavor freshness to the last puff, with no burnt taste. And our innovative MESH Coil 2.0 maximizes the richness in every puff.
The 12ml e-liquid capacity and super-fast-charge battery (80% charge in 35min) of SMASH guarantee the real 6000 puffs for the week
You may be wondering...
Q: What sets the WAKA Smash 9-layer FlavorLock technoloy apart?
A: Our pioneering new 9-structural layer technology seals the device firmly to preserve the freshness of the rich flavor, providing a more consistent vaping experience from beginning to end.
Q: How does MESH 2.0 improve on the 1st generation?
A:We further adjusted the match of the MESH coil design and cotton porosity for our 2nd-generation MESH, enhancing the vaporizing performance for richer taste, and making sure even less of the e-liquid goes to waste.